This list relates to the semester Semester 1 2019 which does not start until 01/01/2019
Week 1: Introduction: Art in the Time of Colony

4 items

Week 2: The Melancholy Landscape

5 items

Week 3: The Heidelberg School

4 items

Week 4: Modernism between the wars: Cubism and Surrealism

5 items

Week 5: Site Visit: Queensland Art Gallery

1 item

Week 6: The Impact of Aboriginal Art

6 items

Week 7: Sidney Nolan: Guest Lecture Nancy Underhill

3 items

Week 8: The Field and the Provincialism Problem

6 items

Week 9: Conceptual Art / Art and Language

5 items

Week 11: Feminist Perspectives in the 1970s

5 items

Week 12: Site Visit: Institute of Modern Art

2 items

General bibliography

86 items

We who love: the Nolan slates - Sidney Nolan, Chris McAuliffe, Nancy Underhill, University of Queensland. Art Museum 20161742721508,9781742721507

Book

Kiffy Rubbo: curating the 1970s - Janine Burke, Helen Hughes 2016 (electronic resource)

Book Read pages 57-69: Tape Revolutions: Australian Video Art in the 1970s

Juan Davila - Juan Davila, Guy Brett, Roger Benjamin, Elizabeth Ann Macgregor 20060522852440,9780522852448

Book

The Mad Max movies - Adrian Martin, ScreenSound Australia, National Screen and Sound Archive (Australia) 20030868196703

Book

Margaret Preston - Deborah Edwards, Margaret Rose Preston, Rosemary Peel, Denise Mimmocchi 20050734763735,0734763743

Book

Mikala Dwyer - Mikala Dwyer, Edward Colless, Linda Michael, Museum of Contemporary Art (Sydney, N.S.W.) 20001875632719

Book

Rupert Bunny: artist in Paris - Rupert Bunny, Deborah Edwards, Art Gallery of New South Wales, Art Gallery of South Australia 20099781741740479

Book

Transformations in Australian art - Terry Smith 2002187700412X,1877004138,1877004146,9781877004124,9781877004131,9781877004148

Book Read Chapter 2: Adopt, Adapt, Transform!: Modernist strategies in Margaret Preston's Still Life, 1927, pp.47-73. High Use copy held in the Social Sciences and Humanities Library. Copyright Act prevents online access.

Art & Australia 1994

Journal Read pp.250-259: "Pastoral and Georgic in Tasmania" by Hoorn, Jeanette

Past Central Exam Papers

1 item

Webpage Follow the link and search for past exam papers by course code.
Creative Commons Attribution Non-Commercial 3.0 Licence
Profile Required
Reading intentions and notes are stored against your user profile. Please create a profile to use this feature.
My notes
You must be logged in to add a note
What are item notes?
You can use item notes to make personal notes on any of your reading items. Notes are private to you and will not be shown to other users.
You can review your item notes from the list, the item page or from your profile page.
---
How do I create an item note?
To make notes, first you must be logged in. Once logged in, simply click Add note? next to the list item you wish to make notes on. You can also make notes at the bottom of every item's detail page.
Your note will be saved automatically as you type.
Have you read this?
You must be logged in to set a reading intention
What are reading intentions?
Setting up reading intentions help you organise your course reading. It makes it easy to scan through your lists and keep track of progress. Here's an example of what they look like: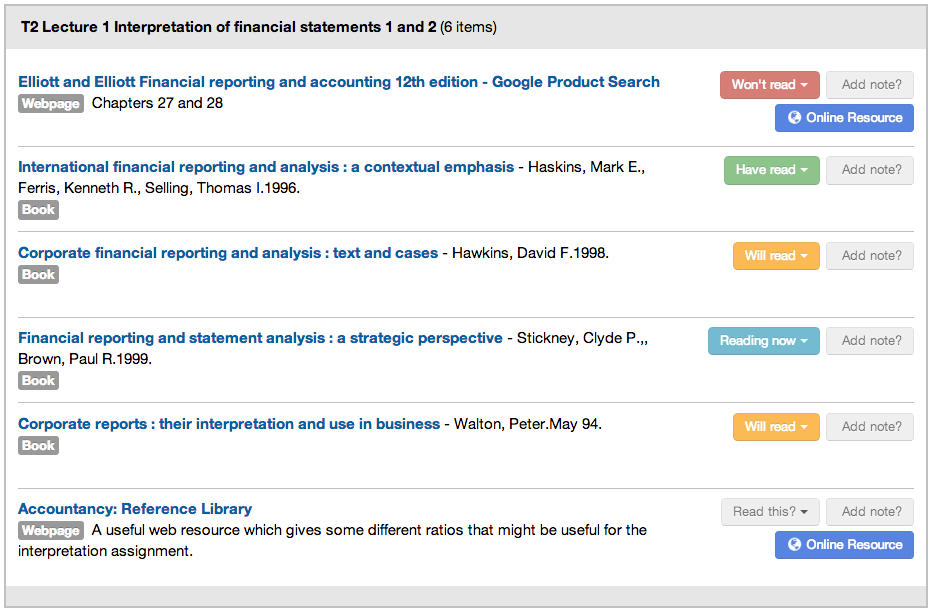 Your reading intentions are also stored in your profile for future reference.
---
How do I set a reading intention
To set a reading intention, first you must be logged in. Once logged in, click Read this? next to the list item you wish to set a reading intention for.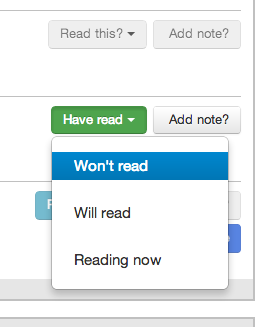 You can also set the reading intention from every item's detail page.