This list relates to the semester Semester 1 2019 which ended on 23/06/2019
The Odyssey - Homer, Robert Fagles, Bernard MacGregor Walker Knox 20060143039954,9780143039952,9781101221846

Book Required

Euripides III: edited by Mark Griffith and Glenn W. Most - Euripides, Richmond Lattimore, Oliver Taplin, Mark Griffith 20130226308790,0226308804,0226309347,0226308774,0226309355,0226308812,0226308820,0226309363,0226308952,0226308960,0226309371,0226308979,0226308987,0226309339,9780226308791,9780226308807,9780226309347,9780226308777,9780226308784,9780226309354,9780226308814,9780226308821,9780226309361,9780226308951,9780226308968,9780226309378,9780226308975,9780226308982,9780226309330

Book Required

Religions of Rome - Mary Beard, John North, Simon Price 19980521316820,0521456460,0521304016,0521450152

Book Further

Greek religion - Jan N. Bremmer, Classical Association (Great Britain) 20060199220735,9780199220731

Book Further

Past Central Exam Papers

1 item

Webpage Follow the link and search for past exam papers by course code.
Creative Commons Attribution Non-Commercial 3.0 Licence
Profile Required
Reading intentions and notes are stored against your user profile. Please create a profile to use this feature.
My notes
You must be logged in to add a note
What are item notes?
You can use item notes to make personal notes on any of your reading items. Notes are private to you and will not be shown to other users.
You can review your item notes from the list, the item page or from your profile page.
---
How do I create an item note?
To make notes, first you must be logged in. Once logged in, simply click Add note? next to the list item you wish to make notes on. You can also make notes at the bottom of every item's detail page.
Your note will be saved automatically as you type.
Have you read this?
You must be logged in to set a reading intention
What are reading intentions?
Setting up reading intentions help you organise your course reading. It makes it easy to scan through your lists and keep track of progress. Here's an example of what they look like: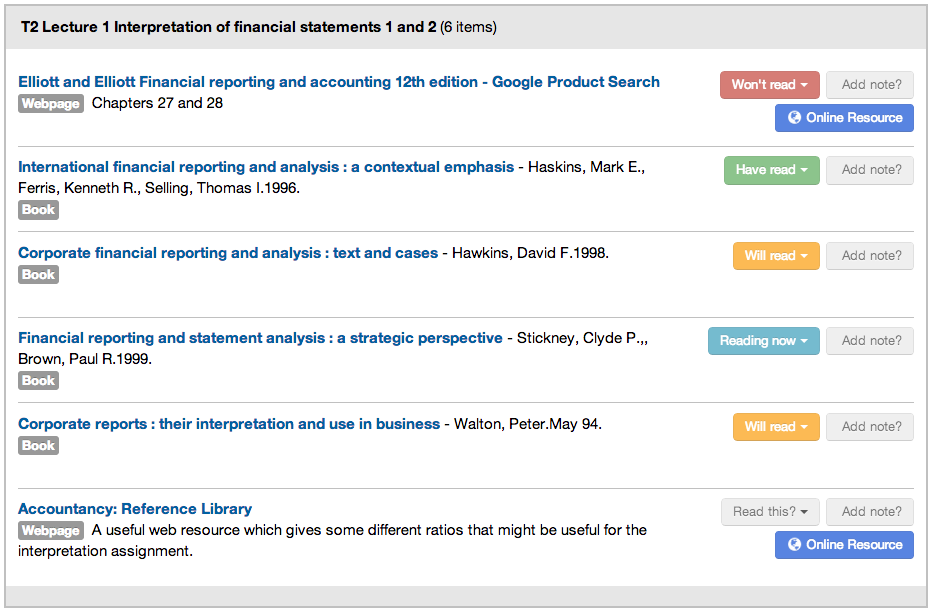 Your reading intentions are also stored in your profile for future reference.
---
How do I set a reading intention
To set a reading intention, first you must be logged in. Once logged in, click Read this? next to the list item you wish to set a reading intention for.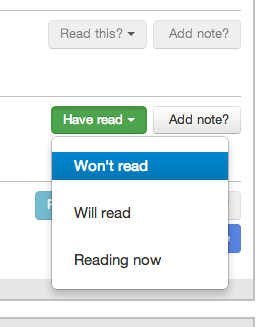 You can also set the reading intention from every item's detail page.